Heartsaver® Pediatric First Aid CPR AED
Heartsaver Pediatric First Aid CPR AED is designed to meet the regulatory requirements for child care workers in all 50 United States. It teaches child care providers and others to respond to and manage illnesses and injuries in a child or infant in the first few minutes until professional help arrives. The course covers the Four Steps of Pediatric First Aid and modules in Pediatric First Aid, Child/Infant CPR AED, Adult CPR AED, and Asthma Care Training.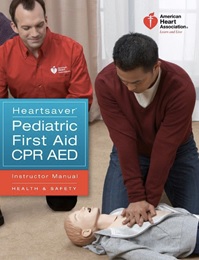 The modular classroom-based course is designed to be flexible and allow Instructors to teach either Pediatric First Aid, CPR AED or both.
Audience:
Camp counselors
Child care workers
Coaches
Foster care workers
Others responsible for children including parents, grandparents, babysitters and guardians
Teachers
Youth group leaders
Features:
Designed to meet the training requirements for child care workers in all 50 United States
Classroom format is ideal for learners who prefer group interaction and feedback from an Instructor
Course Content:
Pediatric first aid basics
Illnesses and injuries (topics include but are not limited to)
Bleeding and bandaging
Allergic reactions
How to use an epinephrine pen
Asthma
Drowning
Bites and stings
Burns
CPR AED and choking
CPR and AED for children
How to help a choking child
CPR for infants
How to help a choking infant
CPR and AED for adults (optional)
How to help a choking adult (optional)
Course Materials:
Heartsaver Pediatric First Aid CPR AED Student Workbook
Heartsaver Pediatric First Aid CPR AED Quick Reference Guide
Course Format/Time:
Classroom-based, Instructor-led with skills conducted throughout
Course Fee:
Initial (first-time) Providers: $85 + $25 (2015 Provider Manual)
Renewing Providers: $80 + $25 (2015 Provider Manual)
Certification:
Upon successful completion of the course, students receive a Heartsaver Pediatric First Aid CPR AED course completion card valid for two years.

The California Child Care CPR & First Aid Course: This course meets the California child care centers and family child care home licensing requirements for CPR & First Aid for  and must be renewed every two years. This is an 8 hour mandatory training.

During the course, an AHA Instructor conducts video-based lessons and works with students to complete their first aid, CPR and AED skills practice, and CPR and AED skills testing.
Scheduling & Discounts:
Register early because classroom-based courses fill-up quickly
Enrollment is limited
Course scheduling is subject to change without notice
Please call us if you have any questions or for discounted group rates and seasonal promotions!
Feel free to view our website for more information: https://www.yourcprmd.com
Our AHA ACLS instructor, Dr. Nuqui, was very knowledgeable, experienced, supportive, and entertaining. Most of all, I really appreciated how well organized and engaging the initial provider course was conducted in a pleasant and comfortable learning environment. Not only was the training site facility brand-new but everything from the student materials, training AEDs, intubation equipment and manikins were up-to-date and in excellent condition.
I was very impressed with how professional and enjoyable my ACLS and PALS renewal classes were at Palm Desert Resuscitation Education! As an emergency medicine registered nurse working at Desert Regional Medical Center in Palm Springs, I wanted to be educated with the most commonly seen cardiac arrhythmias and their treatment but also needed classes that were attention grabbing and fun. Palm Desert Resuscitation Education instructors definitely kept my attention during the lengthy courses by having a balanced sense of humor, pertinent and brilliant instructions, and excellent case scenario discussions.
I highly recommend this training facility as your go-to CPR certification site for your healthcare job because Dr. Nuqui is not only passionate about saving lives but is awesome when it comes to teaching you the proper techniques of resuscitation including compressions, airway management, and defibrillator use. He shares his medical and teaching experiences while making you feel relaxed, stimulated, and well informed with the current AHA guidelines. He taught me exactly what I needed to know to be ready when cardiac arrest happens.
During my Basic Life Support (BLS) class, I was given all of the necessary skills to be confident and not be afraid if ever one of my patients or family members collapses due to a heart condition, such as a heart attack. PDRE's instructors and staff provide a very friendly, informative, humorous, interesting, and stress-free class that makes me want to personally refer all of my friends and family to do their CPR training at PDRE. Do not hesitate to try the best American Heart Association courses in the Desert Cities!
As an elementary teacher who needed to be responsible for many students, I wanted to learn first aid basics and CPR in case I encounter a time when one of my students may either be choking, bleeding, seizes, faints, breaks a bone, sprains a muscle, becomes allergic, passes out, and experiences other first aid emergencies. Palm Desert Resuscitation Education's first aid basics and CPR classroom course, which were held in our elementary school, was the perfect out-of-site learning setting to practice first aid basics and CPR for medical and injury emergencies. All of the staff and school employees are truly thankful and now self-assured to be able to provide possible practical first aid basics and CPR to our students, associates, friends or relatives. From my experience, Palm Desert Resuscitation Education quite honestly has the greatest, most efficient and personable instructors teaching top-of-the-line healthcare certification courses.
Dr. Nuqui and his staff were truly amazing when I needed my BLS certification for my personal training business. He was very efficient and thorough with all of the course content and materials including the new guideline changes so that we are all up-to-date when it comes to performing effective CPR and step-by-step use of an AED. It was very easy to listen to him because he is not only a great instructor but is outgoing and personable. He really made the class enjoyable and easy to understand. I would definitely go back here for my BLS recertification.
Being a member of an exclusive golf club in the Palm Springs area, I was surprised by how much I learned in adult CPR and AED use, first aid basics, medical emergencies, injury emergencies, and environmental emergencies during an exciting and educational course held by Dr. Nuqui and other instructors in our private Club House. You never know when someone needs help, especially when we are out in the golf course, and those minutes before the first responders get to our location can be vital. Thus, those important medical techniques that Dr. Nuqui presented to us clearly could possibly save one of our participant's lives. I now feel very comfortable that our golf club members were trained the proper way and can respond to almost any medical emergency.